Thursday last week we spent the entire day exploring Fashion Tech Conference in Berlin. It is an event solely focussing on the intersection of Tech and Fashion organised by Premium Group who is also organising the two fairs NEONYT and Premium.
The conference showcased a number of new tech innovations in fashion that aim to push the boundaries of traditional fashion across Digital, Gaming and Blockchain.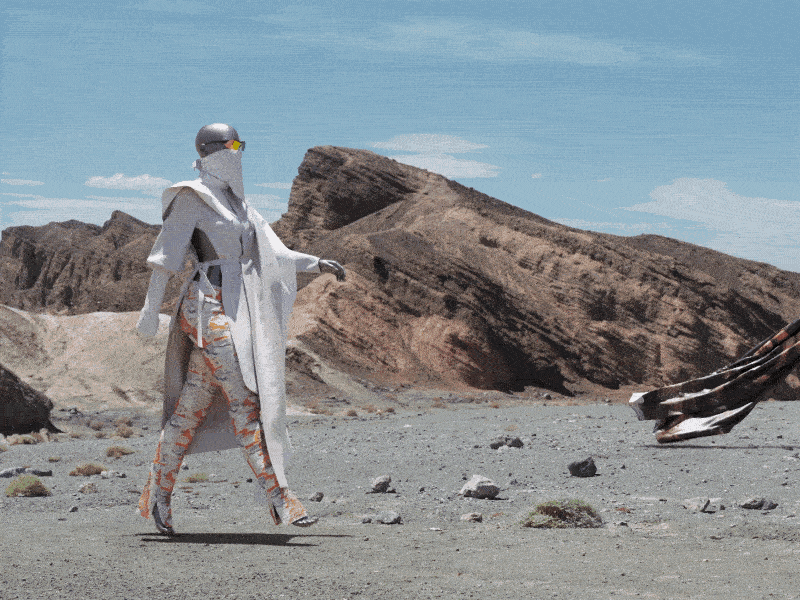 Digital/Blockchain: The Fabricant
The Fabricant a technically Amsterdam based startup was represented by its founder Kerry Murphy at the Fashion Tech Conference in Berlin. During his talk the founder discussed the possibilites of digital fashion as an alternative to physical fashion. Digital fashion in this sense means purely virtual "couture" that is securely stored within a blockchain to ensure authenticity. The Fabricant therefore describes itself as "a digital fashion house leading the fashion industry towards a new sector of digital-only clothing." Designs by the Fabricant can then be applied in virtual environments – think like a filter on top of photo or potentially in games. While currently most of their designs are available as free drops on their website, they recently sold their first piece of digital couture for almost USD 10K at the Eternal Summit in New York.
Gaming: Moschino
Gabriele Maggio (General Manager, Moschino), Joe Nickolls (VP & GM, EA Maxis), Andrea Hopelain (VP of Global Brand Marketing, EA) discussed the spillover of fashion to games. With the cooperation between Moschino and EA's Sims gamers are enabled to wear their favourite Moschino clothes while playing their favourite game. Counter to the retail price (hundreds of USD) for the physical version of Moschino's collection items, the digital version can be worn for free. The luxury brand wants to leverage the presence in the game to form stronger relationships with potential customers and eventually drive sales by acquiring this new audience that has not been customers before.
Blockchain: XTERAT
XTERAT is a Berlin based start up that made it its mission to link physical design assets with their digital counterparts. This means for example buying a physical Nike sneaker and then bringing a virtual copy of the item with you into your favourite video game. To make sure that the virtual copy is authentic the platform leverages blockchain to keep track of an individual item's history and all its ownership transfers. The first use case of this technology is supposed to be streetwear. If successful, XTERAT plans to enable the consumer to own digital assets of their physical favourites and the designer to publish their physical creations digitally while ensuring their authenticity.
Whats next?
Reflecting on the impressions from the conference it remains to be seen whether digital fashion will help to alleviate the pressure on the planet by being a potentially more sustainable and cleaner way of fashion. What is more, with the trend to digital fashion, will we also see an increase in open source fashion designs that will then be 3D-printed at home? And what about gaming and virtual reality – will we move to show our personality through clothes in the virtual realms more so than the real world?
Let us know your thoughts!!
With this we close the Berlin chapter of our tour for now and are excited for this weeks location: Amsterdam. We have a busy week ahead visiting Fashion for Good, Prime Ventures, Modefabriek, Project Cece, Charlie Temple and PVH.
Stay in touch!
FTS team